HE HAS FINALLY SHOWED UP =3
Fan bias
is so powerful. I was so overjoyed while watching that episode especially on times when he's featured on screen. Teeheeheehee.
Alrighty, now for my weekly dose of anime xD I made my style a little different this time, and they're no longer in alphabetical order.
~ LOVE OUT OF BISHIE BIAS ~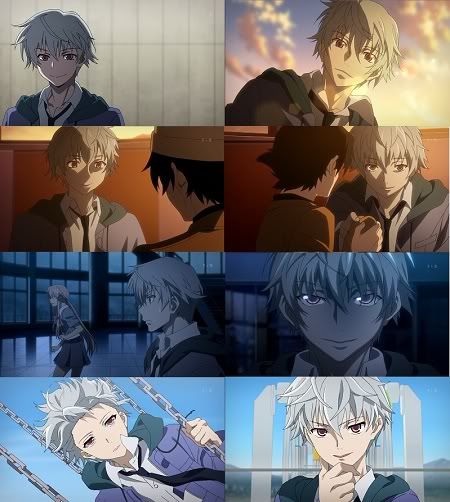 (I AM OBVIOUSLY NOT CRAZY ABOUT HIM!!!!.... LOLz xD)
[ Mirai Nikki - Ep. 8 ]
HELLO DARLING!!!!!!!!!!!!!
SQUEEEEEEEEEEEEEEEEEEEEEEE!!!!!!!!!!!!!!!!!!!!!!!!!!!!!
OHMYGOD HE'S JUST SO KYAAAAAAAAAAAAAAAAA!!!!!!!! xD
When he said, "You're trembling. How cute."... THAT'S QUITE SADISTIC OF HIM, ISN'T IT? BWAHAHAHAHAHAHAHHAHA xD
The anime made changes though (Akise grabbed Yuki's HAND when running away, not his wrist/arm). Perhaps the anime is trying to make him less... queer. LOLz
EITHER WAY HE'S STILL GORGEOUSLY CREEPY xD HAHAHAHAHHAHAHA!!!!
How Yuki's friends found out about his diary's ability had been different in the anime. I like it better this way.
And I don't remember that Murumuru and Akise scene from the manga (or maybe I just haven't read it). The parts when Murumuru was imitating Akise's poses.... I can't stop laughing xD HE DIDN'T MIND THOUGH. HE JUST CONTINUED MAKING MORE FABULOUS POSES xD Hahahahaha!!!!
~ JUST DIED FROM TOO MUCH DAAW ~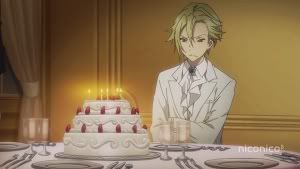 [ Guilty Crown - Ep. 8 ]
This is one of the reasons why I can't easily hate the psychopathic jerks, like the blonde bastard in this series.
HE'S JUST LONELY!!!!!!!!! xD
THERE ARE EVEN TEARS ON HIS EYES!!!!!!! HE NEEDS CUDDLES!!!!!!!!!!!
OH THAT POOR DEAR STILL SAD THAT HIS DADDY CAN'T CELEBRATE HIS BIRTHWAY WITH HIM EVEN ON THAT AGE!!!! DAAAAAAAAAAAAAAAAAAAAWWWWWWWWWW!!!!!!!!!
That was the only memorable scene for me in this episode, ahahaha.
Okay, fine. Whoever skrewed up Gai's mission is an intriguing character (I like his hat). Kitty girl wearing a maid costume for fun was cute. The rest is meh. Shu sucks. Forget that I even shipped him with Inori. He's so annoying.
But hhhmm... everyone's been making a fuzz on his "She's my-" line. So it means that's something like a confession? Come to think of it, Lelouch from Code Geass had said that as well (referring to C.C.) So.... DOES THAT MEAN THAT HE ALMOST CONFESSED TO C.C.???? The writer of Guilty Crown is the same as Code Geass's after all... WHAT STOPPED YOU IN MAKING MY CODE GEASS SHIP OBVIOUS???!!! AAAAAAAAAHHHHHHH!!!!!!!!!
~ WTF THIS CAN'T BE HAPPENING ~
"This is it. The end of our relationship. It's been too long. Everything has been."
"Aren't we brothers? There is no such thing as an end."
"Cut it out. We just so happened to be born on the same day. Just strangers."
[ Mawaru Penguindrum - Ep. 21 ]
DAMN THAT JOURNALIST FOR MAKING MY TWINS FIGHT!!!!!!!
WAAAAAAHHHHHHHH!!!!!
DAMN IT, KAMBA!!!!! DAMN IT, SHOUMA!!!!!!
AAAAAAAAAAAAAAAAHHHHHHHHHHHHHH!!!!!!!!!!!!!
I think Kamba didn't tell Shouma because he knew what Shouma would do... but no matter what Shouma thinks, he doesn't want to stop.
BUT YOU TWO STILL DIDN'T NEED TO GO THAT FAR!!! NOW MY TWINS ARE DEFINITELY SEPARATED!!!!! WAAAAAAAAAAAAAAAHHHHHHHHHH!!!!!!!!!!!!!!!!!
So this means moments like these ain't gonna happen againt?:

WAAAAAAAAAAAAAAAAAAHHHHHHHHHHHHH!!!!!!!
*cries for eternity*
And my Kamba x Masako shattered to pieces when it got confirmed that they're biological siblings. So neither of the two were bothered about incest (I believe they used to date?) What I don't get though was that Masako just said that her father left (not exactly dead, just didn't come back, from how I understood it before)... but since they're siblings... and Kamba's flashback shows their father's dead.... EEEEHHH??? *lost*
And wait, Kamba can see the dead? o_O And why did Sanetoshi got included in the picture all of a sudden?! And he was the leader behind everything (not the Takakura daddy?)? EEEHHH???!
I am no longer sure if this series is just so good in making crazy twists or its manipulating some events to intentionally confuse the audience @_@
~ MOST IMPRESSIVE AND INTERESTING ~
[ Un-Go - Ep. 8 ]
The concept behind this arc was really unique *_* Previous episode didn't make much sense, but after this one it made me go "So that's how it is! THAT WAS SO COOL!"
I find it funny how demanded Shinjurou was... for very somple detective work... and even on house errands, LOLz.
How Kazamori crosses firewalls was pretty cool~ I loooove how she made Shinjurou awake. Haha. She has to be sure~
Rin cares about Shinjurou. So much that she's willing to help out Kazamori and Inga just to find and save him. How cute of her to think that assistants wear maid outfits, haha!
My Hayami's not stupid~ But my Hayami's also a pervert. His gorgeous face quickly became laughable when female!Inga offered to tag along with him as his assistant. Perhaps he was hoping that she'll be playing with him like how she does with Shinjurou. Oh he's such a pervert.
~ FAIRY TALE REFERENCES FTW ~

[ Phi Brain - Kami no Puzzle - Ep. 9 ]
SNOW WHITE REFERENCES!!!!!!!!!!! YES YES YES YES YES!!!!!!!!
I LOVE FAIRY TALE IN SHOUNEN!!!! But this is the first shounen wchich used fairy tale references with the couple wearing opposite costumes. LOLz LOLz LOLz
It was pretty romantic though. How Kaito protected Nonoha... daaaaw~ It's totally gonna be them (especially that it looks like Gammon will be into another girl in the next episode. By the way, Gammon in a drag looks so wrong... yet freakin' hilarious, haha!)
It's a LOGIC PUZZLE on this episode *_* That puzzle would've been fun, I was hoping to give it a try, but memorizing everything after hearing it once is impossible for me. Amazing for Kaito to remember all those details, gah.
So the student council president's creepy smile was actually his good guy smile. For some reason I was kinda disappointed that he wasn't a villain. Ahahaha.
That POG president's pretyt pathetic... GHEY even. Fairy tale puzzle to kill a solver. Pfft.
~ NOT AS EXCITING AS USUAL ~
[ Fate/Zero - Ep. 10 ]
So that's how Ryounosuke had been able to lure so many kids easily. I wonder how Caster will react when he finds out about it. Ryounosuke is letting his Servant boss him around... and I can't imagine him doing that for too long. I really wish to see him get pissed off and put Caster under his control. Ehehe.
Rin as a kid wasn't so bad, though it did annoy me that she tried to go to Fuyuki at night around the time after her father told her that it's dangerous. I can somehow understand trouble magnets, but those who are asking for trouble is... ugh.
But she's still a child here, so I'll forgive. I don't know or remember the stupidity she does on Fate/Stay Night. I only remember disliking her on those very few episodes I've seen from that series years ago. *sigh* I'm worried about watching it....
Anyway, I really feel sad about Kariya. He cared about Aoi's daughters almost as much as how he loved their mother. This love is just so.... heartbreaking ;_;
I was finally done with my
Winter 2012 Anime Series First Impressions
and sadly, it hadn't been as impressive as the previous season. Natume Yuujinchou was something I already adored since season 1, while Inu x Boku SS was out of manga bias. The rest of the new stuff aren't really that interesting, unless they happen to be better than what they appear.