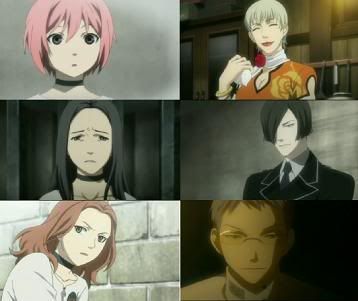 Of course the leading girl can't be executed because it's not even half of the series yet! Haha! But it was an incredible escape!
I blame my computer's internet streaming errors that's why I wasn't able to watch this episode sooner. Oh god . . . I almost missed this fantastic episode! I really love how this series keeps getting better and better. I don't care if it was too sad or Kuniko had been such a Mary Sue, at least she was the decent type among her kind! Overall events had been really awesome! I'm so pleased.

I thought Karin was some only child that's being ignored by her parents, but it seems that her parents still keep in touch. At least her mom does. And I didn't expect her mom to be pretty . . . crack! Haha! Even if her daughter's still so young she's already looking for a son-in-law! Haha!
Ah, so Mikuni can't go to the surface because she has some sort of disease? Medicine is not done yet, but she can go out if it's dark. She was finally able to go outside this episode because of a solar eclipse.
I think Miko is really enjoying Mikuni's company now. I think she doesn't have the Tropical Fish goal in her head most of the time now, unlike when she was about to go to Atlas.
Momoko's got two get-ups in this episode! Haha! She entertains me. I'm not pleased with the part of her lecturing Kuniko about what she should do if she were to die. It's like foreshadowing her own death. Unlike Kuniko, she's not immune to character-deaths since she's not exactly a leading character. Noooooooooooooo . . .

I admire Tomoka's determination to save Kuniko. She doesn't care if she has to use her body for it. She'll use any means to get Kuniko out of there.
I like Soichiro for being one of the decent soldiers among Ryoko's men.
The black haired dude, I forgot his name, but I like him too! Haha! He's mean but he let Kuniko use a sword for her mirror. Hehe. But I find it a little stupid that he wasn't suspiscious that Kuniko was so relaxed even if she was about to be executed. She even thought of using a lipstick. There's not way for it to be

not

strange!
It seems that Ryoko doesn't exactly want Kuniko killed and has plans for Kuniko. But if Kuniko isn't exactly worth it in her standards, then she'd rather have Kuniko dead. Anyway, whoa . . . she is so evil. Having those prisoners all killed . . . I like villains who actually act

villaneous

. Not villaneously

pathetic

, but villaneously

cruel

.

I find it touching that the prison girl did a good job in planning Kuniko's escape. I think this is mostly Kuniko's plan though, but I wonder how the heck they were able to communicate to discuss the plan. Either I missed that or just a plot flaw.
I find it cute that (almost) everyone at Duomo were so relaxed even with the news of Kuniko being executed. It clearly hints that Kuniko already has an escape plan. Even Kuniko herself is too relaxed. It's strange that other characters didn't find it odd. I believe to the audience, it's already too obvious, even if Kuniko's not a main character.
But I like it that unlike with other shows, having the main character sentenced to death didn't have many characters go emo and angsty. I'm really impressed on how different this show is.
I like how the escape was done. Nanowires and hydrogen(?) balloon! Al the use of fermented orange juice and stuff! It's a pretty creative and cool way for an escape!
Episode ends with Kuniko, Momoko, and Tomoka near the location where Mikuni and the others are. I'm excited for their encounter! I want to know the relation between Momoko and Mikuni. (I so wanna know what's with those matching earrings!) And I think I can anticipate some Momoko and Miko drama. Hehe.

FANGURLING CORNER:


KUSANAGI'S IN THE EPISODE!!!!!!

Soldier boy is as cute as ever~


KYAAAAAAAAAAAAAAAA!!!!

HANDSOME, YOU STILL DON'T GET IT?
YOU LOVE HER.
OH SORRY IF I CANNOT SEE IT IN A PLATONIC WAY. SHE IS YOU ENEMY YET IT PAINS YOU TO HAVE HER DIE. IT COULD ONLY MEAN ONE THING FOR ME:
YOU'RE IN LOVE, YOU IDIOT.
KYAAAAAAA!!!!!!!!! PLEASE MAKE THEM CANON! I FREAKIN' WANT ROMANCE FROM THIS ENTERTAINING PAIRING!

NEXT EPISODE:

NOOOOOOOOOOOOOOOOOOOOOOOOOO!!!!!!!



Please don't kill Momoko. I love that character! You're going to eliminate one of the most entertaining characters in this show?!
However, this episode foreshadows it and the preview hints that so much.
NOOOOOOOOOOOOOOOOOOOOOOOOOOOOOOO!!!!!!