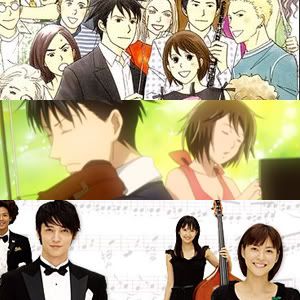 Megumi Noda, or "Nodame" is a piano student at Momogaoka College of Music. An extremely talented pianist who wants to be a kindergarten teacher, she prefers playing by ear rather than reading the music score. She is messy and disorganized, takes baths several days apart and loves to eat, sometimes stealing her friend's lunchbox when it is filled with delicacies.

Shinichi Chiaki is Momogaoka's top student. Born into a musical family, he is talented in piano and violin and has secret ambitions to become a conductor. An arrogant multi-lingual perfectionist who once lived abroad in the music capitals of the world as a young boy (namely Prague), he is trapped in Japan because of his childhood phobia.

They meet by accident. Nodame quickly falls in love, but it takes much longer for Chiaki to even begin to appreciate Nodame's unusual qualities. Their relationship causes them both to develop and grow. Along the way, they meet some crazy people (like Masumi, Mine, and Stresemann) and make lasting friendships.
It's one of the best slice of life + romantic comedy + drama + classical music series I've ever seen and read. The story's really good. All characters have been fantastic as well! Even if the main couple gets the most attention, the supporting characters aren't exactly left out and had been great on their own. Its theme also tackles about life and relationships, dreams and goals, failures and triumphs, fears and hope, weaknesses and strengths, hardwork and talent, and many more! Overall it has been very wonderful and entertaining!
Manga is ongoing; Anime first two seasons ended, but third season coming soon; Live-action series and specials ended, but more specials coming soon. I can't tell which adaptation is better, because all have been excellent in their own way! All of them had been very enjoyable!

Source:
Plot: Wikipedia