More adventures of the Axis Powers Stooges ~ More Liechtenstein sweetness ~ Switzerland in despair and going tsundere towards Austria ~ Austria being Austria ~ Austria's stalker reveals himself
Hahahaha!!! I love this episode! It's so fantastic and it made me more hyper because Prussia has more lines and his voice was PERFECT! Yes, it's kinda different from how he sounded in episode 8. This one really fits him. I'm happy his seiyuu changed his pitch. Hehe~
Let's go first to the adorable siblings' story:
OH HOW COULD LIECHTENSTEIN LOOK SO PRETTY: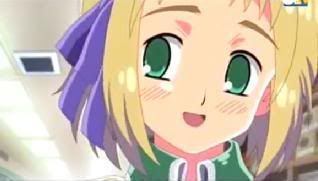 Liechtenstein:
Yay! Onii-sama bought me a pretty ribbon! Now I look girly no matter how much I copy whatever he wears!

Liechtenstein:
We are holding hands again! Even inside the supermarket. We are very very close! Yay!

Vash (Switzerland):
What do you want to eat?
Liechstein:
Onii-sama, of course what I would like to eat is what you would like to eat. Aside from your appearance, I also copy what you eat.
Vash:
Alright . . . maybe some cheese fondue'll
Two people suddenly meet: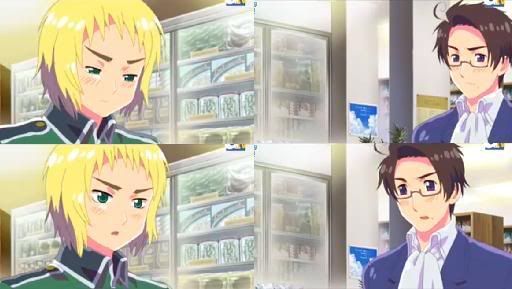 Roderich (Austria):
Shockerz!
Vash:
OMG!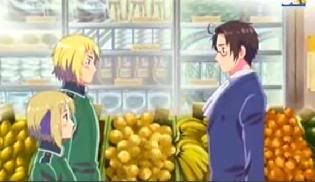 ~ *stare* ~
FLASHBACK REPEAT: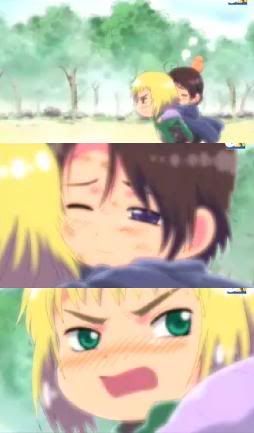 Chibi Vash:
You're so heavy, you idiot!
Chibi Roderich:
*acts cute*
Chibi Vash:
*secretly blushing*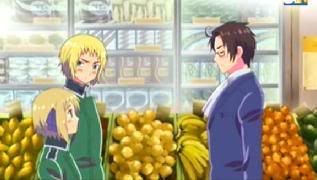 Liechtenstein:
Hello aquintance of my Onii-same! How do you do?
Roderich:
I'm fine. How about you sweet little girl?
Vash:
Don't talk to my sister. And what the hell are you doing here in the first place?!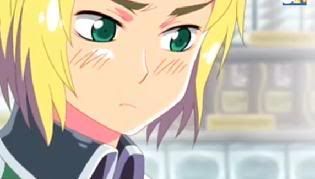 Vash:
*sees Roderich's groceries . . .all expensive and . . . *
Vash:
MY PRECIOUSSSSSSSSSSSSSS . . . .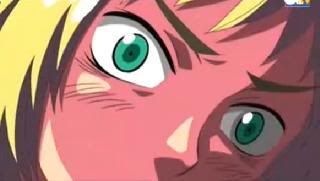 Vash:
ZETSUBOSHITA! The expensiveness of great cheese has left me in despair!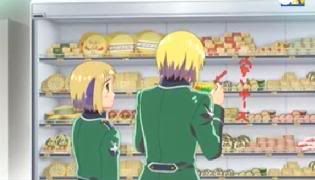 Liechtenstein:
Onii-sama, please cheer up.
Vash:
*is in absolute despair that even his sweet sister's nice words won't cheer him up*
Roderich:
How about we have a lunch date?
Liechtenstein:
As long as Onii-sama joins us, I don't mind.

Vash:
DON'T YOU DARE HIT ON MY SISTER! AND WHO THE HECK WOULD WANT TO EAT WITH A BASTARD LIKE YOU?!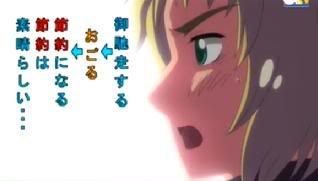 Vash:
But wait, the bastard can buy expensive cheese. Then that means he has the loot to buy expensive food from expensive restaurants as well! I can be frugal but get to taste some good stuff if I take advantage of his offer!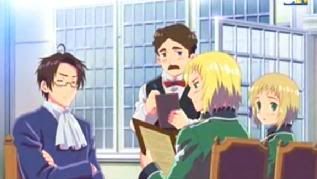 Vash:
I don't really want to join you but since you are treating us, I don't want to miss that opportunity to save money.
Roderich:
I know. You haven't changed a bit.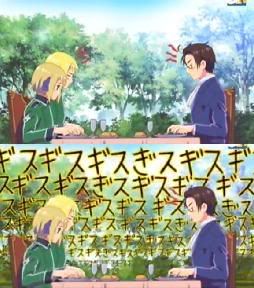 ~* very negatively intense atmosphere *~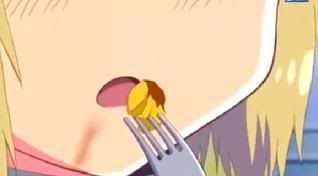 Liechtenstein:
Oopsie!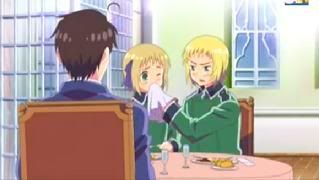 Vash:
That's not sightly.

* THEY BOTH RECALL A VERY SIMILAR SCENARIO*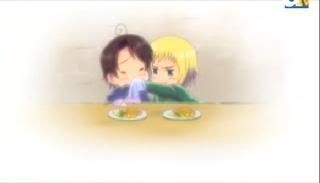 Vash:
That's not sightly.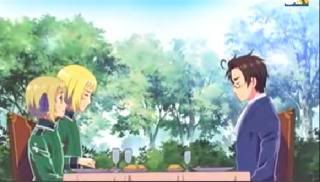 * THEY ARE SPEECHLESS *
Then suddenly . . .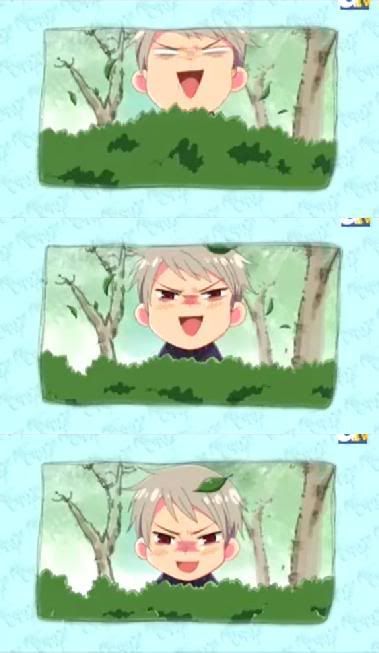 Gilbert/Gilbo (Prussia):
MWAHAHAHAHA! ORE-SAMA IS HERE!!!
I totally love that evil laugh and oh boy I can't stop laughing while looking at that chibi face. Bwahahahaha!!!!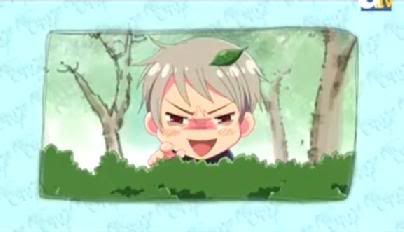 Gilbo:
You think you could escape my stalker-senses, Roderich? I have a Roderich radar after all! Haha! Caught ya sissy boy!
OH THE CHIBI CUTENESS: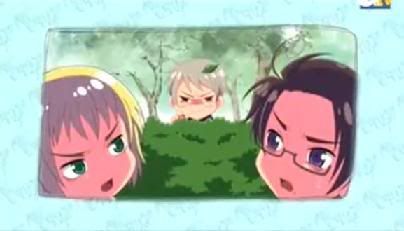 Vash and Roderich:
WTF IS THIS LUNATIC DOING HERE???!!!
Gilbo:
Sorry for interrupting your little reunion but I would just like to reveal something . . .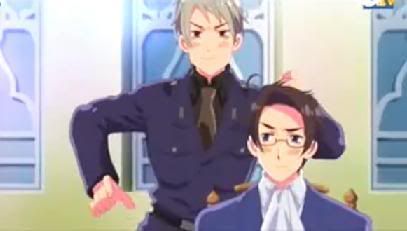 Gilbo:
Aside from the fact that even if this sissy boy is like some rich dork for buying such expensive stuff today, he actually wears the same shit everyday and eats f-ing leftovers (of course Roderich's stalker knows him inside-out). And more importantly . . .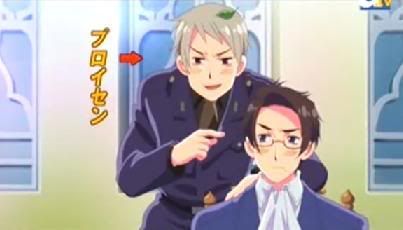 Gilbo:
He's my bitch now. Okay?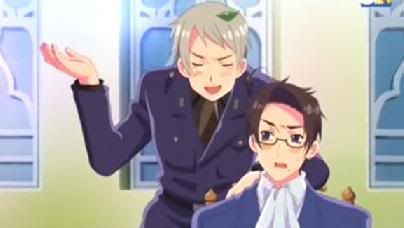 Roderich:
WTF?!
Gilbo:
I am just speaking absolute truth.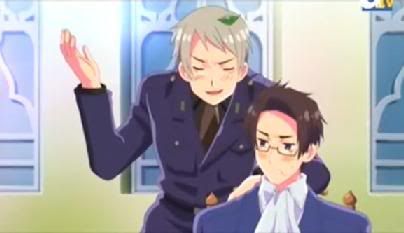 Gilbo:
I'm too awesome I can't help it . . .

Roderich:
Who are you calling your bitch?!
Roderich:
And . . . I do those stuff out of frugality. What's wrong with that?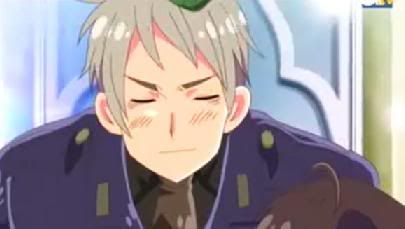 Gilbo:
Hmm? What's wrong with it?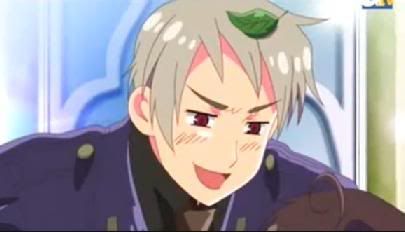 Gilbo:
Simple! I'm too awesome and you're so not so everything you do that pisses me off sucks! Get it, sissy boy?
Vash:
*stare of cuteness*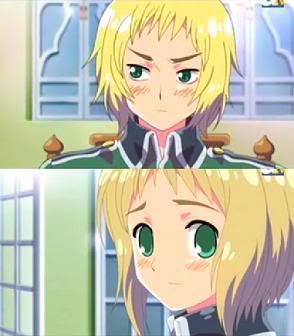 Vash:
Roderich hasn't changed a bit either.
Liechtenstein:
Seems that he's as cheap as you, Onii-sama.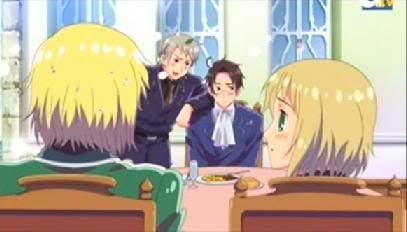 Vash:
DON'T COMPARE ME TO HIM!!!!
Gilbo:
NYON NYON NYON NII!!!!!
OH MY GOD GILBO YOU LORD OF CRACK I LOVE YOU!!!!!!!!!!!
*ehem* Now to the portion with the Axis Powers. Continuation of the stranded island portion it seems. But this one's in the manga. I just can't find the strip *is sad*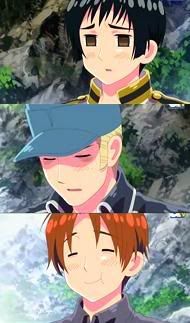 ~* THE THREE STOOGES *~

Feliciano (Italy):
Hey guys, I'm hungry. So I'm eating this thing, okay?
Ludwig (Germany) and Kiku (Japan):
*ABSOLUTE SHOCKERZ*
Feliciano:
Nom nom nom~
Oh the chibis looks so cute~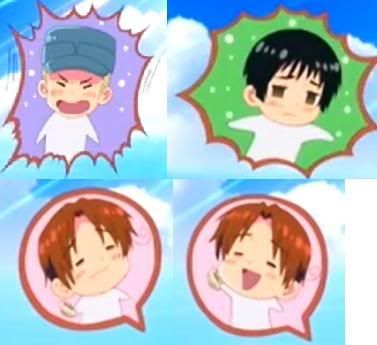 Ludwig:
FELICIANO!!! WHAT THE HECK ARE YOU EATING???
Feliciano:
Gyoza~
Kiku:
How did you find it?
Feliciano:
I'll show you~
~* the trio walks in the middle of the forest and spots a . . . *~

Ludwig:
OMG! What kind of paradise is this?
Yao (China):
Aiya~ This is China town in the middle of nowhere aru~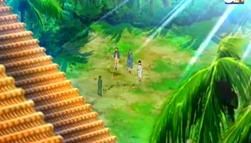 Ludwig:
Srsly?
Yao:
Yeah, srsly.
Kiku:
Surprising that you were able to build this in such a place.
Yao:
I'm so incredible that I can put a Chinatown almost anywhere~
Feliciano:
There's pasta, right? Let's eat!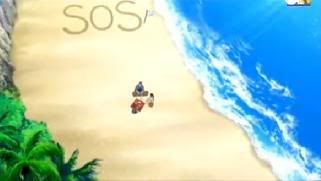 Axis Trio no longer hungry . . . . but they're still stranded.
OH THIS EPISODE IS PURE AWESOME!!!!! I CAN'T WAIT FOR THE NEXT!!!!!!!
I know Hetalia keeps on surprising me that I no longer know what to expect, but I think it's safe to guess that there'll still be a continuation of the Switzerland and Liechtenstein strips. They have to show what exactly happened between chibi Switzerland and Austria after all. Also, THERE HAS TO BE AN ALLIED FORCES VERSION OF THE SHIPWRECKED SCENE!!! There is in the manga and the drama cd! The manga only had America, England, and France (+Seychelles) though; while the drama cd had put the two groups together. My guess is that in the anime it will have the Allied Forces complete or will follow the manga, but definitely the America and England moments should be there! The drama cd didn't exclude it! OHMYGOD I WANNA SEE THAT!!!! I WANNA SEE ANIMATED ENGLAND FEELING COLD!!!!!!!!! SQUEEEEEEEEEEEEEEEE!!!!!!!!!!!!!!
Notes:
~ I will upload the bigger versions of the screenshots sometime this week. Internet's not being friednly. Gggrrr [EDIT] I don't think I have the time to do that . . . huhuhu . . .I have so many pending posts ;_;
~ Of course not all the lines there are actually what they said. Haha! They're mostly for fun . . . and are pretty close to what they said . . . and what hey really want to say. Bwahahahaha!