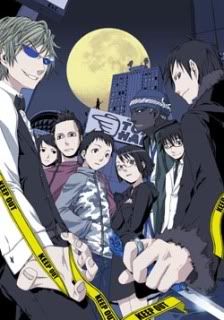 It has been revealed that
Dhurarara!!
, the light novel series by
Baccano!
author Ryohgo Narita, is getting animated!
Dhurarara!! (the distorted love story?)
is a light novel series, which premiered in April 2004, by Ryohgo Narita, with illustrations by Suzuhito Yasuda. As of July 2009, six volumes have been published by ASCII Media Works under their Dengeki Bunko label. A manga adaptation by Akiyo Satorigi started serialization in the shōnen manga magazine Monthly GFantasy on April 18, 2009.
The series is set in Ikebukuro, Tokyo, and revolves around an ensemble cast including street thugs, high school students, a female radio host, an underworld doctor, a young information vendor, and a headless Irish fairy (which is one of the major characters that is said to be riding a living motorcycle searching for its stolen head in Japan).
The official website will be opened later but staff credits already show a reunion of Baccano staff members including Brains Base producing the animation and almost the whole Baccano crew! Aside from the production company, the Director, Story Planner, Character Designer, Art Director, and Music Composer are also the same.
Baccano! is my greatest obsession next to Axis Powers Hetalia! That anime series was seriously brilliant and epic!!! It totally needs another reason but instead of that we get to have another series by the same author instead. But I'm relieved that the same staff and production company's working on it, because they did such a good job on Baccano and Natsume Yuujinchou! Aside from the fact that Dhurarara's synopsis is already very cool and interesting, the geniuses behing the Baccano novels and anime are working on this new anime too. From only those, we could already tell that AWESOMENESS OF THIS ANIME IS ASSURED!!! I cannot wait! I am very excited for this!!! YESSSS!!!!!!

Source/Credits:
~ Wikipedia
~ Anime News Network
~ Anime Nation
~ Otaku Review
~ AnimeKon