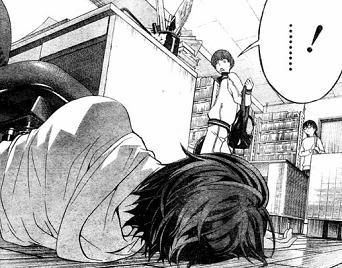 Bakuman amazes, delights, and surprises me as usual but . . .
DAMN CLIFFHANGER!!!!!!!!
ROOOOOOOOOAAAAAAARRR!!!!!!!!!!
Crow and Detective Trap tied in 3rd! That brought up their confidence alright! Hattori had predicted that they will be in Eiji's level in around three years, and it's exactly around three years later now. That's so awesome! Shuujin and Saiko want to pay him back, so they're doing their best.

However, the next chapter dropped down. The mangaka of Kiyoshi Knight (why did I suddenyl forget his name. Eep~) and his punk friend had such a creative strategy. Hehe.

But Detective Trap is going to have a volume released and will even have color pages on its 19th chapter! Aaw~ I wish it wasn't a fictional manga. . .

Saiko had been working hard. TOO hard. So one day he finally collapsed. He was brought to the hospital, and that had a lot of people worried. His mom was there, Shuujin of course, and even the editors, Mr. Miura and Hattori!

But when the doctor finally revealed to them Saiko's condition . . .

We are left with their shocked expressions and the actual revelation is saved for the next chapter: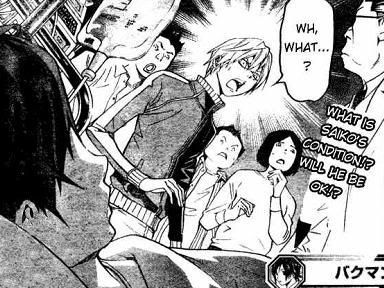 AAAAAAAAAAAAARRRRRGGGGGGHHHH!!!!!!!
CLIFFHANGER!!!!!!!!!!!!!!!!!!!!

Anyway, I don't think Saiko's condition is extremely serious. But it's still bad. Most likely it's bad enough that he won't be in the condition to draw for a while.

The people who've come to the hospital so far aren't the only ones who care for Saiko. I wish and anticipate the other mangakas to visit him. Especially Eiji! He's so fun~ And more importantly, Miho should visit him. Oh please cut the not-see-each-other-until-our-dreams-come-true crap! This is a critical situation. Please see each other already~ Hehe.