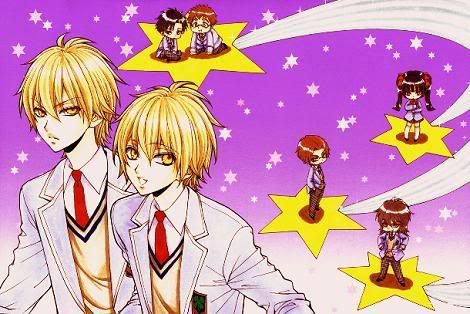 Atsumare! Gakuen Tengoku
by Tsuda Mikiyo
Sui and Sou are a pair of twins who are starting high school. Though raised by occultist parents, they were supposed to have a very normal high school life. However, once they arrived at campus they not only encountered werewolves but also vampires and even sorcerers! As more strange people appear one by one, will the twins' secret be uncovered?

(Baka-Updates)
I THANK KANZY FOR INTRODUCING THIS SERIES TO ME
! I think I have ignored it from manga releases lists because of the word "Gakuen" in its title. It means "academy" or "school", and manga in school setting usually have the student council crap, and I'm sick of those. Only a few had been likeable . . .
Anywayz, this one doesn't have the student council thing . . .so far. But it's slice-of-lice + supernatural . . . and I don't even ignore that genre. Haha! Yeah, I'm a huge sucker for series that deal with extraordinary beings, psychic powers, the occult, etc. Another thing that made me more certain that I'll love this manga is that it's also by the mangaka of Princess Princess!!! I LOVE THAT SERIES! Moreover, what totally got me drawn into this series is, or are rather: THE TWINS!!!!!!!
So among the manga that I'll be following (Yes, I'm totally following this!!!), there are now two series that provides me twin boys fanservice: Ao no Exorcist, and this, Atsumare Gakuen Tengoku!
I don't think it will have yaoi, neither shounen-ai . . . only implied shounen-ai. Sometimes overprotective siblings show their sibling love in a way that can be misinterpreted by other people. So yeah it really isn't total shounen-ai to me.Or maybe my shounen-ai radar is just that poor. . .
Anyway, bias aside, the story had really been very interesting! The parents of the twins are supernatural lovers who are desperate to witness or have an experience on anything that is . . .err . . not natural. Then later we find out that their sons had gained psychic abilities! (I believe both of them have powers; I think Sui's just isn't revealed or discovered yet.) How they possessed such abilities is still a mystery, but well, their school life can't be normal for having such secrets to hide~
And then it so happened that the school they had enrolled in had students that aren't ordinary humans (or aren't human at all). I don't think it's just a stupid coincidence because it seems that they had all enrolled to that particular school for some goal or mission, which is still a mystery for now, but it looks like the twins are the key to it~
I really love it when a shoujo manga in a school setting isn't just about being bullied, or confessing to those they love, and other crap. That happens in real life, and it sucks. Show me something in a school setting that's totally impossible in real life, yet make it totally fun!
Oh this series had been so much fun~
I like the variety of characters! We have ordinary humans, extraordinary humans, and non-humans. Not all are ideally pretty; not all are men (for a manga that seems shounen-ai; oh thank goodness it's not an all-boys school).. They have personalities, and they have been great on in their own way. I don't see any stereotypical characters. I am so relieved~
Alright, now to fangurl:
. . . . .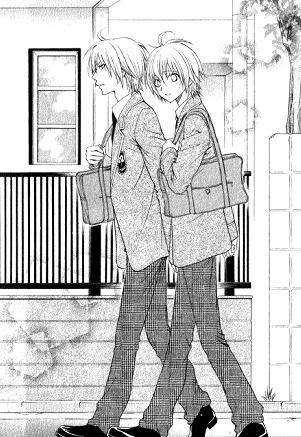 I FREAKIN LOVE THE TWINS!!!! KYAAAAAAAAAAAAAA!!!!!!!!! SOU IS SUCH A POSSESSIVE YOUNGER BROTHER, OH YOU MONOPOLIZER!!!! AND HE'S SO CUDDLY!!! I LOVE EVIL DUDES THAT GO CUTE TO A SPECIAL SOMEONE!!!! AND SUI IS FREAKIN' GLOMPABLE!!! HE'S NOT REALLY THE WEAK TYPE BUT HE'S SO CUTE THAT I UNDERSTAND WHY SOU HAS SUCH AN OBSESSION IN PROTECTING HIM!!!! THEY ARE SO FREAKIN' SWEET! THEIR YOUNGER SELVES ARE ALSO FREAKIN' ADORABLE!!!! I FREAKIN' LOVE THEM!!! I WANT MORE OF THEM!!! NOW NOW NOW NOW!!!! OMG!!!!
*inhales* I am no longer sure for how many hours I've been staring at panels of Sui and Sou being so cute. Ohohohohoho~ I know I'll die from diabetes if I see more of them, but I still totally can't wait for the next chapters~
Obviously, I'm so hooked~ The twins were total win for me.
But ya know, even without the fanservice, it's still a nice manga. The story has been pretty good so far and the characters are fun~ Yes, even the non-main characters. I love this manga. Other people should start reading this as well. Ohohohohoho!!!
Though of course, if you don't appreciate the likes of Princess Princess, then you might not like this one too . . . even if it has lesser shounen-ai undertones. And yeah, people who are
easily
disturbed to anything that seems shounen-ai may not like it too. Also those who don't like the school + supernatural combo. Ehehe . . .
Oh well, tastes differ. While I . . . am totally in! Whee~



Sapphire Pyro




READ:

2 chapters out of 2 scanlated chapters of a new ongoing manga


VERDICT:

Totally Following

It's supernatural. My number one favorite genre. And it has occult, psychic powers, vampire, wereworlf, sorcery, stuff.
Moreover, it's by the mangaka of Princess Princess, which I love very very much.
More importantly, IT HAS TWIN BOYS BEING SO SWEET~ I AM SO IN!!!!