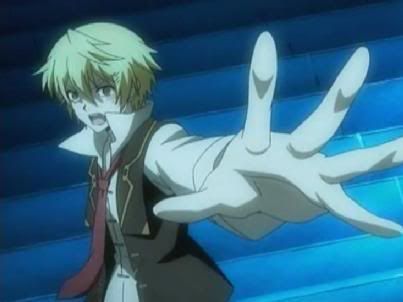 This would have been a really shocking episode to me if I didn't have manga background. But well, it had still been very awesome~ There's a background track that was played here that I'm not familiar with. Probably it'll be in the second OST.
[ TZE LOLZ ]
I'll start with some of the funny parts because . . . Pandora Hearts crack is always epic. Bwahahaha!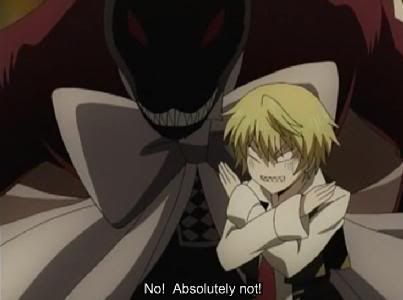 I am very amused with Oz's gesture on saying "DON'T" to Alice . . . because I do it the same way. Haha!
And . . .
THEIR FACES LOOK ALIKE IN THAT SCENE, RIGHT? BWAHAHAHAHAHA!!!!!!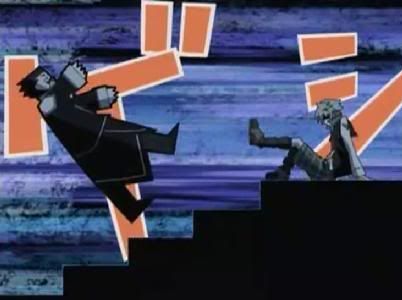 I know that even if Jack is the intimidating and mystifying type to the public, like Oz, he's also a lord of crack. LOLz TO THAT KICK!!! BWAHAHAHAHHA!!!!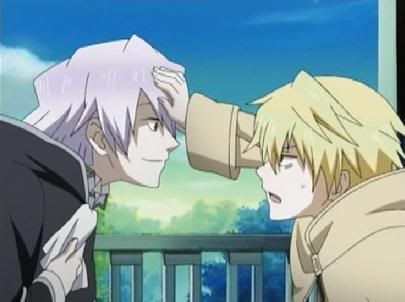 It was amusing when Oz wasn't that enthusiastic on seeing Break being back. Hahahaha! And his reaction on Break apologizing all of a sudden. Hahaha!!!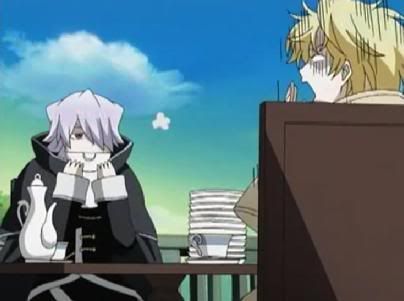 BREAK YOU BIG GLUTTON TO SWEETS! SO WTF BUT FREAKIN' ADORABLE! WAHAHAHAA!!!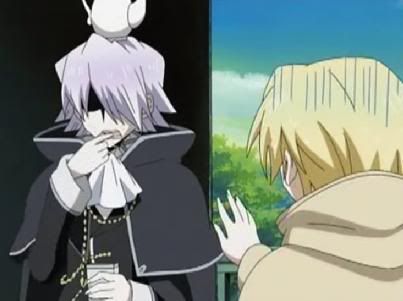 He pours his anger on eating sweets . . . even . . it's sugar, right? Wahahahaha!!!!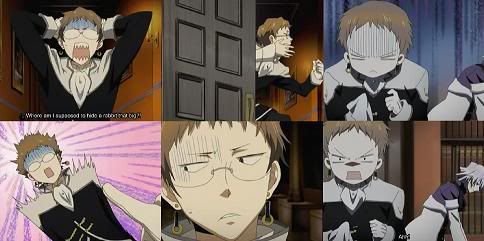 But Reim has the most crack moments in this episode!!! He's so amusing~ Wahahahaha!!!
[ JACK and OZ ]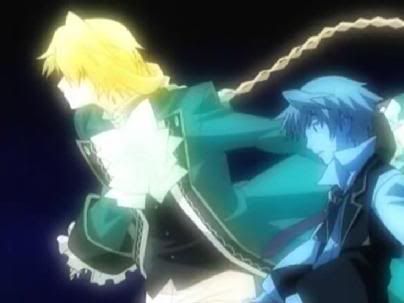 Poor Oz being tossed aside . . . hehe . . . but that scene looked beautiful . . . I mean in artistic terms.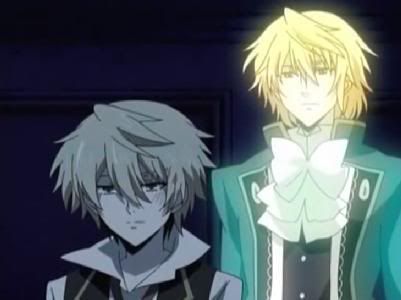 Scenes with Oz together with Jack while being possessed don't look great though . . .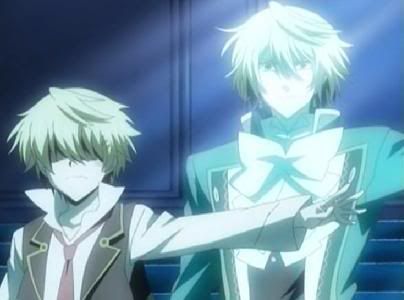 Even with the spotlights . . .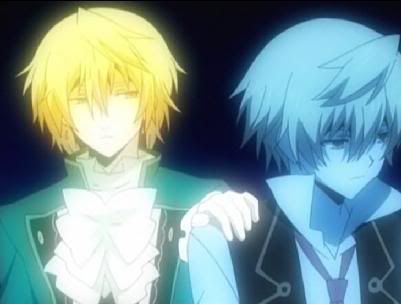 Jack apologizes for taking over his body, but Oz was more upset on the him being the next hero stuff.
Yeah, yeah, it's the usual chosen one crap. There's always something really special with the leading character. But if the story's good, who cares? Wheeee~
[ JACK in OZ ]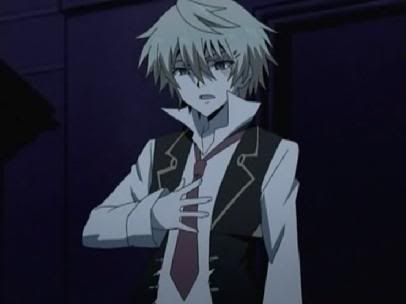 Unlike the manga, for me there aren't much scenes wherein possessed Oz looks pretty . . . except when he's doing his speeches.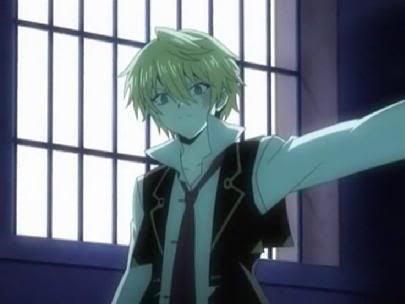 And yeah, even with the spotlight. Oz should go solo instead of being in a scene with Jack when in possessed state. Haha!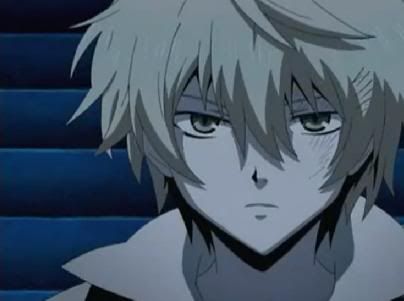 Serious look~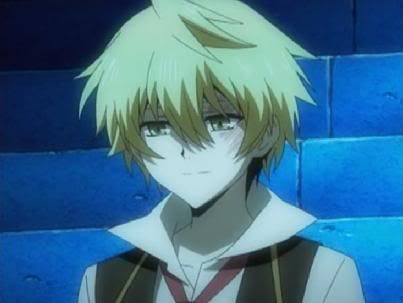 Happy look~
THE ULTIMATE GAZE THAT CAN SEE RIGHT THROUGH YOU!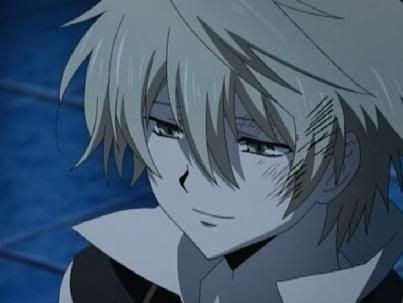 THE SMILE THAT MADE ALICE BLUSH A LITTLE!
[ OZ ]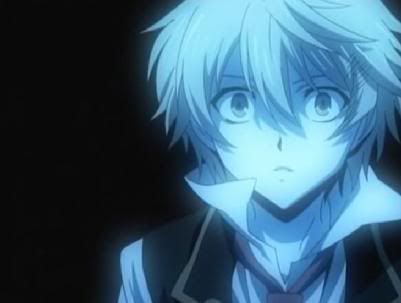 I am not sure if it's already confirmed if Oz is Jack's reincarnation, but that totally makes sense . . . . especially with their looks~ But man . . .seeing Jack really makes me wish Oz to get older already . . . so that when I see him with Jack, they'll be identical twins~ *obviously a twin lover* Hehehehe~
[ OTHERS ]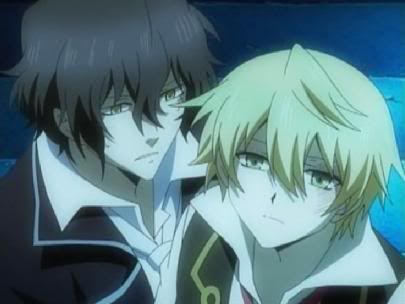 For some reason, Oz saying Gilbert's name with Jack's voice seems so . . .wrong. Hahahahahah!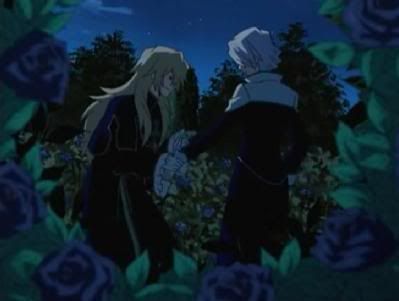 I find it very very sweet that Break had chosen Sharon over the things he yearned for a long time and worked so hard for~
[ NEXT EPISODE ]
Next episode will show us how Oz's sister is doing~ Yay! But this is the part I look forward to the most: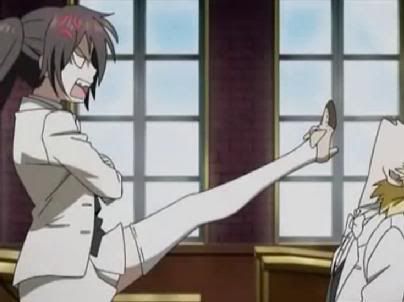 WAHEHEHEHHEHEHEHEHE!