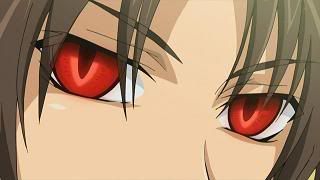 ONE OF THE BEST EPISODES OF THIS SERIES YET AGAIN!
But once again there are parts that are better narrated in the manga. There had also been good stuff in the manga that weren't included in the anime as well. *sigh*
However, some parts had been much more beautiful and awesome in the anime adaptation compare to the manga version. There were even some additional parts that are so nice that weren't in the manga. So somehow the anime had made up for it.
Why can't the anime just put only the good stuff together? The hell I care about balance when it comes to epic awesomeness of an episode!
But still, overall, the episode had been very
very
VERY
wonderful
!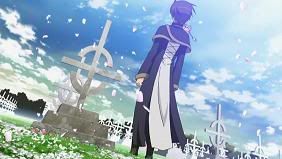 Episode started with the funeral scene. There were several people who had attended but of course it was Teito who was last to leave.

I really love how the funeral scene was animated. Those flying petals, beautiful scenery, nice camera angles. So marvelous!


Teito spends more time alone, still mourning for Mikage, then swears that he's going to take his revenge and kill Ayanami.


Burupya playing with the kitty is so distracting. Freakin' adorable! KYAAAAAAAAAAAA!!!!!!


Meanwhile, Ayanami reports to Miroku about what happened. Miroku knows form the start that Teito has the Eye of Mikhail and its his and Ayanami's little secret now. He orders Ayanami to retrieve the Eye, but doesn't seem to care about keeping Teito alive anymore.

I don't remember Miroku knowing about it in the manga. I reviewed the chapter on where this episode is based, and in the manga Ayanami just thought of retrieving the Eye on his own. He even wanted to retrieve it for the sake of peace, after recalling that the Eye started the war with the Raggs Kingdom after all. He doesn't think that the Eye should be in the possession of the Church and its officials (e.g. pope, etc.)

Oh why didn't the anime add this scene:

Who says Aya-tan can't do something crack??!! Bwahahahahhaa!!!! Hyuuga's so amusingly cute! He even had a stamp on his face. Wahahahaha!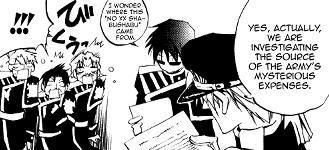 I also wish this scene was included! When the other officials were snooping around, they cover their secret by saying they're investigating about what those officials have been doing. Haha!


Now back to the anime, Teito decides to leave the place and thanks Castor for the mourning clothes (so Castor can make clothes for guys too? Hehe). Later, Castor catches up and asks if Teito remembers Zehel. Teito says that he knows it's actually Frau, and he could feel that Castor's also like him.

Castor then uses his powers to make Teito unconscious. No one who had seen one of the 07-Ghost was able to tell others because their memories get erased!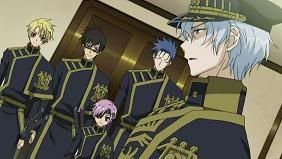 Short interruption with a scene with Ayanami and company. He just assigns his subordinates about their secret mission. Everyone gets excited. Hehe.

Back to the other side, Castor brought Teito near the altar and prepares to get rid of those enemies. It was different form the manga, because Castor began the memory wiping at once and on the spot. I don't see the necessity of bringing Teito to that place . . .

except for wasting screentime . . .

DAMN! ADD THE AYA-TAN CRACK INSTEAD!!!!! *pouts*

Anyway, while Castor does the memory wiping, Frau interrupts. He doesn't want Teito's memories erased because it would also erase Teito's last memory of Mikage. That's so sweet of you Frau!


But Castor was just being practical. It would be very troublesome for them is the military finds out about their identities. And Castor also mentions about the candidates for beign Mikhail's vessel, and Teito seems to have been one of them. I am not sure of what the connection of Frau's being the only one who can wield Verleon's scythe to this matter, but well, thanks for the trivia.


Castor really insists that Teito's memories should be erased. Frau gives up in convincing him and walks away.


But suddenly, Frau's scythe acted on its own and attacked Teito.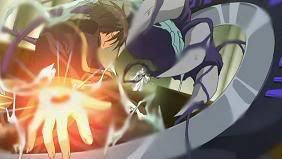 Good thing Teito has a very good bodyguard, so he's okay. Hehe.

I really love that scene! It's very similar to its manga counterpart (I mean, the way it was drawn). AWESOME~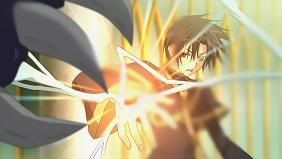 "What an impertinent fool to raise a weapon against my master!"
"You bastards!"

Too bad Mikhail didn't speak in god language in the anime, unlike the manga. He feels more of divine authority and power that way, but Saiga Mitsuki's voicing on him is still so awesome so . . . Squeeee~


Mikhail so wants to kill them for doing such a thing to his beloved master, but he still prioritizes his master's wishes. And we know Mikhail loves his master for being oh so kindhearted.

He shows more of that love:

"Amongst all the previous vessels, my current master would certainly be one in the top ranks when it comes to beauty!"
"What do you think? Isn't it marvelous?"
Instead of answering Castor's question of whether he's Mikhail, instead he praises his master's beauty out of nowhere.
He so loves Teito for being so pretty. It's so adorkable that he even forms a heart-shape out of his hand.
My goodness, MIKHAIL! Don't you know you just made Teito gazillion times cuter by making such a face???!!!
BWAHAHAHAHHAHAHAHAHAHAHAHAHA!!!!!!
He's the most
crack
epic awesome archangel I've ever seen in the animanga world! Hahaha!
He was more crack and dorkier at the manga version though: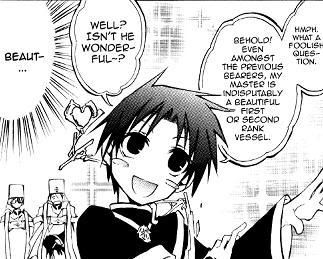 BWAHAHAHAHAHHAHAHAHAHAHAHAHHAHA!!!!!!!!!
MIKHAIL!!!! WHY SO CUTE????
SQUEEEEEEEEEEEEEEEEEEEEEEEEEEEEEE!!!!!!!!!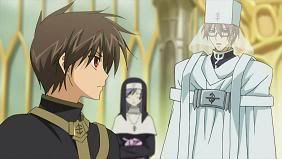 Then all of a sudden, dorky mode turns off then serious mode is back on again. He glares at Castor and that made Castor worry a little.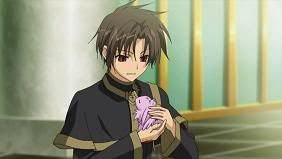 But well, Mikhail just took Burupya. MIKHAIL! YOU KNOW HOW TO APPRECIATE CUTENESS!!! ASIDE FROM YOUR MASTER, YOU KNOW BURUPYA IS ALSO DAMN CUTE!!!! HAHAHAHAHHAHAHA!!!!!!!!

It's pretty amusing to see a powerful and intimidating archangel to caress a cute animal like a kid. Hehe.

But then, Castor mentions that there are many coutnerfeits of the Eye of Mikhail, and that pissed Mikhail off: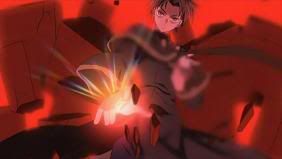 "Do you question a god's authencity? You fools."

All of a sudden the church seemed to have collapsed. Mikhail's such a lord of destruction. He looked so frightening there . . . so awesome~ Even Castor and Frau feel fear.

Then later everything was back to normal. It seems to have been an illusion. Mikhail says that normal humans would've died from the shock. But since Frau and Castor aren't normal, they're okay.

Mikhail remembers the discussion about the collar. He demands it to be removed.

Him demanding in Teito's body . . . . so chibi . . . HE LOOKS ADORABLE!!! Hahahahaha!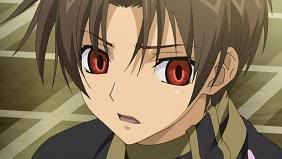 For some reason, Mikhail couldn't remove it. He can't use much of his power with it around (even if he's already so incredibly powerful that he was of match to Ayanami, that was still not his full power?! Then how much more powerful he actually is?! WOW!). He knows that it also bothers his master, so it's making him sad that he couldn't do anything about it.

Mikhail being at a lost . . . an archangel saying he doesn't know what to do like a little kid . . . and with that face . . . OHMYGOD MIKHAIL WHY ARE YOU SO FREAKIN' ADORABLE???!!!! *glomps him for eternity*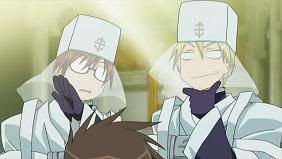 Big mistake for Mikhail, because he just told the bishops a way on how to handle him. Haha! Castor teaches Frau the commands . . . and oh Frau takes advantage of them!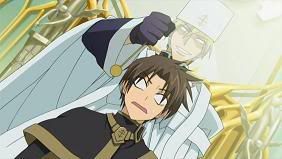 Frau didn't really use the "Bind" command in the manga. Odd that no strings had appeared. Oh anime, see the inconsistency when you don't follow the manga?

But the sleep was really done. Together with the pendulum. Wahahaha!


It worked, so Teito fell asleep. But wait, it worked on Burupya too? What the . . . bwahahahaha!


Burupya wakes up later . . . . and it was so amusing to watch it chew on Frau's hair! Hahahaha! And Frau doesn't even seem to notice it.

It reminds me of Hetalia's Gilbert aka Prussia. He also had a cute chick on his head but he never noticed. Bwahahahaha!


Teito wakes up later, and it was funny to watch Frau and Castor still panic. But later they confirm it's Teito alright.

What I find odd on this scene is that Teito didn't even wonder about what he's doing in that place, unlike the manga. Isn't it the normal reaction? The hell . . .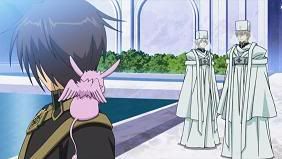 After that part, Teito goes on with his original plan: to leave the place. He says his goodbyes to Razette and the sisters. Labrador and Castor try to convince him to change his mind.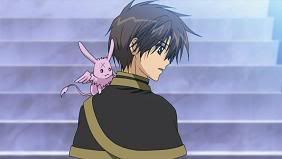 But he has already decided to leave the place. Mikage died for him, so he's prepared to die for his sake.

Is he planning on suicide? Being separated from Frau for more than 48 hours will kill him. The hell . . .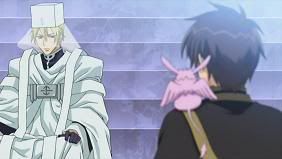 Anyway, Frau brings some sense to him. Mikage's sacrifice would be such a waste if Teito's just going to get himself killed. Frau says he's just going emo and is running away. Wahehehehe~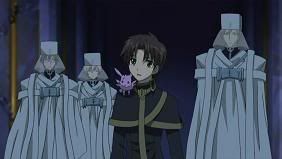 Frau brings Teito to a familiar place. It's the place where his battle against Evil!Mikage have occured.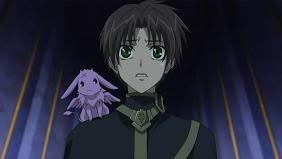 The attacks actually left messages behind. Those were Mikage's last words.
"I'm sorry, Teito"
"You have to keep on living!"
"We'll absolutely always be the best of friends!"
"Teito, I love you."
DAMN YOU MIKAGE!!!! I THOUGHT MY CRYING SESSION WAS OVER!!!
BAAAAAAAAAAAAAAAAAAAAAAAAWWWWWWWWWWW!!!!!!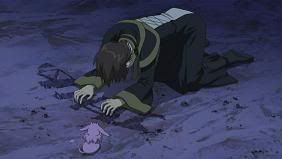 I really really love how the anime adaptation had presented this scene! It was more dramatic and touching. I didn't feel much emotion on this scene on the manga version (all this was just in one page . . . guuh).
I FREAKIN' LOVE THIS EPISODE!

NEXT EPISODE:
The anime is an expert in torturing the fans you know. Episode 9 and 10 make us cry so much that we'll run out of tears. While starting episode 11, the crack returns and our stomachs are gonna hurt from so much laughing! Wahahahahaha!
I TOTALLY CANNOT WAIT FOR NEXT EPISODE!!! FRAU DOLLS NOW!!! AND HAKUREN!!!! KYAAAAAAAAAAA!!!!!!!!!!!!

I ALSO DEMAND A NEW OP THEME! With Hakuren and Burupya I BEG!!!!