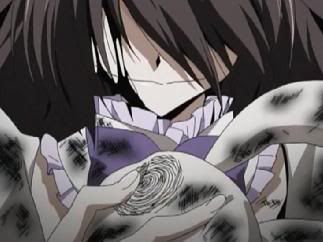 "Mommy, I don't wanna go to bath."
That line came to my mind when I saw that pic o_o She's dirty, not bloody. How could I think of this as horror with that kind of look even with that kind of expression? Haha!
Well, it's the usual Pandora Hearts episode: twisted + crack! Previous episodes had been so serious though, so I'd like to focus on the crack . . . and there will always be the fan bias corner. Ohohoho~
[ THE CRACK ]
Okay, this one isn't exactly crack comedy but . . . . I find it pretty hilariously amazing that there exists a character who can do that to Break. Ehehe~
I love how the anime presented the part on how they ended up having that joke joke match! Haha! Oz narrating the whole event was so hilarious! ALLY OF JUSTICE! Bwahahahahaha!
Junko Minagawa rocks!
But I still wanted the part in the manga on how Oz provoked the trio who have Gil's hat:
OH MY GOD THAT GAY SMILE FTW!!!! BWAHAHHAHAHAHA!!!!!!
Alice staring at food is so cute~
How Oz won the match so easily . . .. BWAHAHAHAHHA!!!!
Evil as ever~
How Gilbert lost the match so easily . . . .BWAHAHAHAHAHHA!!!!!!!
same as ever~
They had a little reunion but too bad the anime didn't add this part:
OZ YOU'RE FREAKIN' ADORABLY GAY!!!!! BWAHAHAHHAHAHA!!!!
By the way, when it was Alice's turn, it made the duo go panic mode:
OZ! IT'S SUPPOSED TO BE A WHITE FLAG!!!! LEARN FROM HETALIA'S FELICIANO/ITALY! Bwahahahahahah!!!!
Gilbert cheats for the sake of his precious hat . . . . hahahahaha!
BREAK'S NINJUTSU!!!! OHMYGOD IT KILLED ME!!!! BWAHHAHAHAHAHAH!!!!!!
HOW COULD HE BE KNITTING IN THE MIDDLE OF AN ABDUCTION EVENT!!!! BWAHAHHAHAHA!!!!!!!
"WE WERE KIDNAPPED! YAY!"
"Uuuuhhh . . . ."
BREAK, WHAT IS SO GENTLEMANLY IN POKING A LADY??? BWAHAHHAHAHAHA!!!!
Oz:
That's what I think Break wants to say . . .
Sharon:
O rly? Honestly, I have no idea how that crazy dude thinks.
Oz:
Srsly? Ah, maybe it's 'coz retarded minds think alike. Wheee~
Oz:
Look! My forehead's big!
Gilbert:
Whatever. . .
Oz:
Oh yeah, where's your hat? The audience might wonder why you're not wearing it after desperately getting it this episode.
Gilbert:
The disgusting freak wore it, so it's got cooties now you know. Eeew!
[ OTP MOMENTS ]
Alice happily tells Oz about her victory~
I'd like to see it as a happy-girl-being-proud-of-herself-to-her-boyfriend moment
Oz was blushing, yes or YES?
He was speechless because she was pretty and flowery and shiny~
Oh every happy moment she talks about it with Oz first. She may be mean to him but she loves sharing happy moments with him. In short, she's happies with him~
It won't take Oz too long to realize if Alice is missing . . . and of course he'll be the one searching most desperately for her . . . and of course he'll be able to track her well until the last spot she was in if she was brought to a different world~
They are so connected~
He's freakin' worried about her and no questions asked when it comes to rescuing her. He always has to come himself~
She needs help bad~
[ PICSPAM ]
Pandora Hearts art and characters are so pretty. Here are just some of my favorite scenes.
~ picspam images have larger versions. Click thumbnail to view =3 ~
~ OZ ~
The natural heartrob in this series xD Cute as ever~
~ ALICE and GILBERT ~
That scene of Alice is just so cute~ And Gilbert looks hott when he does that~
~ BREAK ~
Seeing these two Breaks make me think I'm seeing TWINS! SQUEEEE!!! *twins lover*
He's not exactly the star of the episode but man, he's got a lot of nice scenes here~
~ SHARON ~
I find Sharon really pretty in that scene~
~ ECHO and VINCENT ~
They are love~