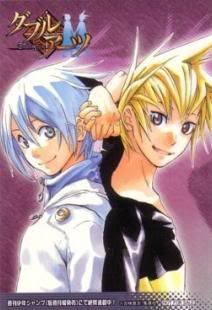 A boy and a girl are forced to join hands for all eternity!?
In a land ravaged by an epidemic known as "Troy", the only people with healing arts capable of stopping the seizures caused by the disease are the Sisters. Although they have a high resistance to the disease, they are searching for a person who is truly immune, so that they can find a cure. The main character is Sister Elraine, one of the Sisters who becomes infected with Troy. But, when she touches Kiri, a seemingly ordinary boy, her seizures stop. Could he be the one!?
(Baka-Updates)
HOW COULD THEY FREAKIN' DARE DISCONTINUE/CANCEL THIS MANGA???!!!!
BAAAAAAAAAAAAAAAAAAAAAAAAAWWWWWWWWWWWWWW!!!!!!!!!!
Yeah, it didn't go on . . . it was FORCED to end at chapter 23.
Reason why?
Just because it wasn't popular enough!!!!!
ROOOOOOOOOOOAAAAARRRRR!!!!


I don't get why it wasn't that popular either, because it's FREAKIN' GOOD!

It has a fantastic set of characters as well!!! Though I'm not fond of the leading lady, Elraine, as usual. But Kiri, Fallan, Sui, and the others are so awesome!!! And what the title's referring to is freakin' cool!!! Romance is official (as in they do like each other) but not canon . . . but romance development wasn't bad. No stupid perverted fanservice either.

Anyway . . .


THIS SERIES HAS MORE TO TELL YET THEY ENDED IT BECAUSE OF SOME STUPID . . . .
UUUUGGGHHH . . .

Okay, I'll stop complaining and encourage people to start reading it. Hehe. The premise might be a little "DUH?!" but it's really really good! I love this! Hehe!