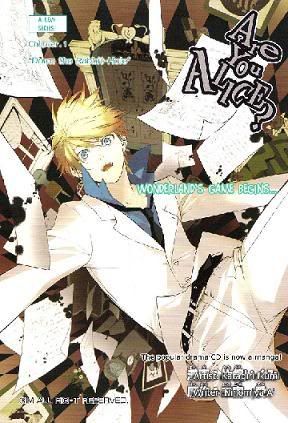 Are You Alice?
by Ninomiya Ai and Katagiri Ikumi
After throwing away his dreams a boy wanders into "Wonderland" and he holds the name of "Alice" which is the primary requirement in the "Game to kill the White Rabbit". In a crazy story where common sense does not apply and everything is bound by the rules of the game and the orders of the Queen of Hearts, Alice decides to take the gun in his hand.

(Baka-Updates)
I do not ignore any Alice in Wonderland manga! Hehe~ The plot was enough to intrigue me and the art was enough to attract me. I actually already have my eyes on this even before it got scanlated! Heck, I even read it RAW and of course I didn't understand a thing but I was already mystified~ Now that it's released in English, I just had to check it out as soon as possible~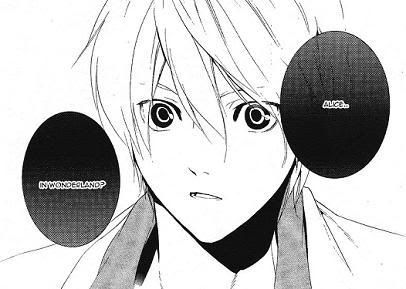 Now that I've read it, I am really VERY amused to the idea of making Alice and the Queen of Hearts as
males
without even changing Alice's name to something boyish nor changing the title of Queen to King. Haha! What the heck?! It made Alice in Wonderland so
gay
. . . but I don't see any shounen-ai . . . at least
not yet
. There are actually some women in this series, though like the Chesire Cat . . . unless she'll turn out to be a trap. And the Queen's got a harem. Whoa . . .
Anyway, the first chapter doesn't make any sense . . . AT ALL. You need to read the synopsis first before reading the chapter to actually have an idea on what's happening. The synopsis had at least explained how our leading character ended up in Wonderland (he threw away his dreams and wandered there) and what his role in that place is (which is to play the dangerous game).
I can see why the demographics for this manga is josei, not shoujo, because it doesn't have the usual shoujo fluffiness~ It's really dark and twisted. Pretty violent and mature too. There's already a lot of murder intents and dark insanity even in the first chapter alone. There's full of mystery and you won't be able to grasp what exactly is going on in a short period of time. It doesn't make sense . . . for the following reasons I believe: 1) simply . . . complicated 2) very
very
mysterious 3) it's
not meant to make any sense at all
.
It blows my mind, but not exactly in a negative way. It made me hunger for what the heck will happen next and also made me beg to be clarified on what is really going on instead. It's interesting and intriguing. It got me thrilled~
I highly recommend it to Alice in Wonderland manga because . . . it's something really
different
. Zero-sum manga lovers will most likely appreciate too. And also those who like anything with dark and twisted stuff might enjoy it too. Hehe~



Sapphire Pyro




READ:

1 chapter (out of 1 scanlated chapter released so far of a new ongoing manga)


VERDICT:

Following

Alice in Wonderland manga! I cannot ignore!
Turned out to be very dark, twisted, intriguing, and mysterious . . . very interesting.
I am loving it!